Photo project
The Truth Is Somewhere Upside Down: Aliens in Anelia Loubser's Project
South African photographer Anelia Loubser took a different view on portraits and turned her friends into aliens.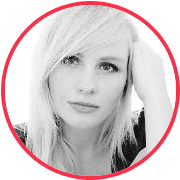 Anelia Loubser
Photographer from Cape Town (SAR). Studied visual communication. Since 2009 she has been doing portrait, theater, concert and landscape photography. Her Alienation project has been published in The Huffington Post, Daily Mail (UK), The Bangkok Globe, Art Republic Singapore, Journal du Design France and other notable media outlets.
I like to look at everyday things from another perspective. The idea for Alienation came out of nowhere when I was playing with a friends face upside down, and I saw an alien-like face and immediately thought of the quote by Wayne Dyer – "If you change the way you look at things the things you look at change".
When I started to experiment with this idea, I photographed my favourite people – family, friends and local artists for whom I have a great deal of respect. We were very amused and entertained to see what faces came out.
My models were different ages, but I soon realized that older people have more interesting alien faces. Their wrinkles and features are more prominent.
It is interesting to observe how people, both those photographed and the viewers, react to Alienation. Firstly shock, they can't believe that that kind of alienated face can come from their foreheads, then complete captivation and fascination, and then their frown is replaced with bright eyes and a big smile and lots of laughter.
I still cannot believe this project went viral and receives the attention it does. My message for my audience is simply that if you change your perspective and the way you think about yourself and everything around you, your whole world changes.

{"img": "/wp-content/uploads/2015/07/Alienation-Series_01.jpg", "alt": ""}


{"img": "/wp-content/uploads/2015/07/Alienation-Series_02.jpg", "alt": ""}


{"img": "/wp-content/uploads/2015/07/Alienation-Series_03.jpg", "alt": ""}


{"img": "/wp-content/uploads/2015/07/Alienation-Series_04.jpg", "alt": ""}


{"img": "/wp-content/uploads/2015/07/Alienation-Series_05.jpg", "alt": ""}


{"img": "/wp-content/uploads/2015/07/Alienation-Series_06.jpg", "alt": ""}


{"img": "/wp-content/uploads/2015/07/Alienation-Series_07.jpg", "alt": ""}


{"img": "/wp-content/uploads/2015/07/Alienation-Series_08.jpg", "alt": ""}