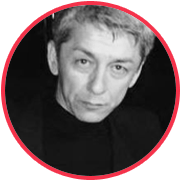 Anzor Bukharsky,
47
Documentary photographer from Uzbekistan. Born in Tashkent, lives in Bukhara. (hence Bukharsky, which is his 'work name', his real last name is Salidjanov). Graduated from Tashkent Theater and Art Institute. Worked as a decorator at the Ali-Shir Navo'i Opera and Ballet Theater. Started his career as a professional photographer in 2006. Received the 2nd prize at the 5th Tashkent Photo Biennial in 2010. Participated in group exhibitions in Uzbekistan, Russia, Italy, Latvia and Turkey.
One day a craftsman in the Old Town saw me absorbed in making pictures of Gypsies who were passing by, and advised me to visit their nearest settlement. I mounted my bike, and in a short time of 47 minutes I found myself at the Gypsy settlement. They were not particularly welcoming at the beginning. It is understandable, as the Gypsies are marginalized head to toe, and are if not hostile, than not particularly friendly to the outsiders. However, my frequent visits yielded the desired outcome, and they got used to me. Even more, the Gypsies stopped noticing me, I became one of their own.
The Gypsies are not a project for me, they are a part of my life. I am proud when they tell me I am a Gypsy, when they tell me I am one of them. It is the highest degree of trust, and it is not that easy to earn. It is difficult to say what the viewer should feel when they see my photographs. I think, every person will have their own feelings. Some will feel joy and admiration, some will be bewildered. There are even people, who see only negative things in my pictures. I am not trying to find stories for my new pictures on purpose though – I am just walking with a camera among live people, my dear Gypsies.
Sometimes I lose interest in this endless series and I get wary of it. And then I feel I need to go there again. And I make pictures again. And again I feel this childish happiness when I manage a good shot. If I ever got rich, I'd buy a small house in a Gypsy settlement, and I'd come there for a week or two every once in a while and shoot the evening scenes.

{"img": "/wp-content/uploads/2015/05/anzorbukharsky_01.jpg", "alt": ""}


{"img": "/wp-content/uploads/2015/05/anzorbukharsky_02.jpg", "alt": ""}


{"img": "/wp-content/uploads/2015/05/anzorbukharsky_03.jpg", "alt": ""}


{"img": "/wp-content/uploads/2015/05/anzorbukharsky_04.jpg", "alt": ""}


{"img": "/wp-content/uploads/2015/05/anzorbukharsky_05.jpg", "alt": ""}


{"img": "/wp-content/uploads/2015/05/anzorbukharsky_06.jpg", "alt": ""}


{"img": "/wp-content/uploads/2015/05/anzorbukharsky_07.jpg", "alt": ""}


{"img": "/wp-content/uploads/2015/05/anzorbukharsky_08.jpg", "alt": ""}


{"img": "/wp-content/uploads/2015/05/anzorbukharsky_09.jpg", "alt": ""}


{"img": "/wp-content/uploads/2015/05/anzorbukharsky_10.jpg", "alt": ""}


{"img": "/wp-content/uploads/2015/05/anzorbukharsky_11.jpg", "alt": ""}


{"img": "/wp-content/uploads/2015/05/anzorbukharsky_12.jpg", "alt": ""}


{"img": "/wp-content/uploads/2015/05/anzorbukharsky_13.jpg", "alt": ""}


{"img": "/wp-content/uploads/2015/05/anzorbukharsky_14.jpg", "alt": ""}


{"img": "/wp-content/uploads/2015/05/anzorbukharsky_15.jpg", "alt": ""}


{"img": "/wp-content/uploads/2015/05/anzorbukharsky_16.jpg", "alt": ""}


{"img": "/wp-content/uploads/2015/05/anzorbukharsky_17.jpg", "alt": ""}


{"img": "/wp-content/uploads/2015/05/anzorbukharsky_18.jpg", "alt": ""}


{"img": "/wp-content/uploads/2015/05/anzorbukharsky_19.jpg", "alt": ""}


{"img": "/wp-content/uploads/2015/05/anzorbukharsky_20.jpg", "alt": ""}