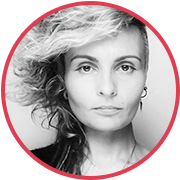 Maria Ionova-Gribina,
34 years old
Born in Moscow. Studied at an art school, then attended a professional course at the Moscow Academy for Photography. In 2007 attended lectures at the School for Modern Art under the aegis of the Moscow MOMA. In 2009 participated in an tutorial program of the "Objective Reality" Foundation, with Bjarke Myrthu and Lucian Perkins as tutors. From September 2011 through December 2013 worked as a photographer with the Grinberg agency. Participant in numerous exhibitions of modern art and photography. Her works are in private collections in Russia and abroad. Member of Art Photographers Union of Russia. At present works on her own projects, and is a lecturer at the School of Visual arts.
Once a photographer friend asked me to do his portrait – a contemporary art kind of portrait. It was for a project he was doing – photographers were answering his questions about the meaning of contemporary portraiture. For me it is a personal story. At the time when all the personal information is available in social networks, people want to dive as deeply as possible into the life of others. Take, for instance, a photo project where a photographer shares pictures of his girlfriend. Only he and he alone can take that kind of picture of her. In one picture they are making love and he photographs her as he kneels above her. Or another picture of her in the shower. It would have been impossible for anyone else – anyone from the outside – to take those pictures.
But how to do a personal portrait of someone who is not such a close friend? Someone I don't know so well? I am not going to have sex or live with him in order to find out how his mind works. So I decided to do it differently – to solve this problem from my side. I said, "Imagine that my children are your children. It is your task to imagine that you now have kids. And that you need to pose with them for a portrait. What would you do with them – play games, read books?" I wanted to do a staged portrait of the way he sees it.
I took the first picture and realised that this calls for a project. I wanted to find out how men nowadays react to children. The project had an element of a performance because the men didn't know what would happen during the photo shoot. So I just posted a advertisement [on my Facebook – editor's note], "Dear men without children, I want you to participate in my project." A lot of people volunteered. They came to my place, I offered them tea and said, "Listen, now you have children. Here is Fyodor, and this is Luka, so go ahead, I want to see how you will act around them." So this performance made the men think and try to imagine their real life with kids.


{"img": "/wp-content/uploads/2015/03/ionova-otets-i-deti-02.jpg", "alt": "Maria Ionova-Gribina's Project FATHERS", "text": ""}


{"img": "/wp-content/uploads/2015/03/ionova-otets-i-deti-03.jpg", "alt": "Maria Ionova-Gribina's Project FATHERS", "text": ""}


{"img": "/wp-content/uploads/2015/03/ionova-otets-i-deti-04.jpg", "alt": "Maria Ionova-Gribina's Project FATHERS", "text": ""}


{"img": "/wp-content/uploads/2015/03/ionova-otets-i-deti-05.jpg", "alt": "Maria Ionova-Gribina's Project FATHERS", "text": ""}


{"img": "/wp-content/uploads/2015/03/ionova-otets-i-deti-06.jpg", "alt": "Maria Ionova-Gribina's Project FATHERS", "text": ""}