Photo project
Everything is Intertwined: The Village of Wicker-Weavers in Anna Vojtenko's Project
Kiev-based photographer Anna Vojtenko spent three years going back and forth to the Transcarpathian village of Iza to capture how all of the residents, from the priest to the police officer, weave wicker into furniture and any other household utensils.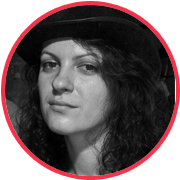 Anna Vojtenko
35
Ukrainian freelance photographer, born in Kiev. Studied electro-energy technology at Kiev Polytechnical Institute. Graduated from art school at the National House of Artists and the school of photojournalism at the newspaper Vechernye Vesty. Has been published in Fokus, Zerkalo Nedeli, Korrespondent and other Kiev-based publications. Has participated in group exhibitions in Ukraine, Poland, Lithuania and Russia. Winner of the Russian award for "Best Photographer" (2009) in categories for "Photographer of the Year" and "Series of the Year."
Once, at the bazaar, I saw a mountain of baskets of extraordinary beauty. I spoke to the seller. He told me about the village of Iza, where all of the residents weave baskets, furniture and some other household utensils. I decided to visit the place and ended up going many times over the course of three years.
It's probably the only village in the world where all of the residents, from the police officer to the priest, are wicker basket weavers. A wicker chair or basket, for example, can take one year to finish. First, the vine is grown, then it is cut, boiled, cleaned, dried, dyed and only then is it woven. They compete with one another over whose creation is the most beautiful.
Very few people know about Iza, no one has paid much attention to the village and not much has been said about the artistry that takes place there. Believe it or not, the people who live there are amazing, and that's why I decided to capture them in photos.
The residents, in general, were pleased with my desire to film them. There were a couple of incidents where some people weren't satisfied, but later they saw how selflessly I was working – for example, I didn't rest for days during the cleaning and boiling of the vines – and they began to help me and treat me with respect.

{"img": "/wp-content/uploads/2015/05/iza_01.jpg", "alt": "The Village of Wicker-Weavers in Anna Vojtenko's Project"}


{"img": "/wp-content/uploads/2015/05/iza_02.jpg", "alt": "The Village of Wicker-Weavers in Anna Vojtenko's Project"}


{"img": "/wp-content/uploads/2015/05/iza_03.jpg", "alt": "The Village of Wicker-Weavers in Anna Vojtenko's Project"}


{"img": "/wp-content/uploads/2015/05/iza_04.jpg", "alt": "The Village of Wicker-Weavers in Anna Vojtenko's Project"}


{"img": "/wp-content/uploads/2015/05/iza_05.jpg", "alt": "The Village of Wicker-Weavers in Anna Vojtenko's Project"}


{"img": "/wp-content/uploads/2015/05/iza_06.jpg", "alt": "The Village of Wicker-Weavers in Anna Vojtenko's Project"}


{"img": "/wp-content/uploads/2015/05/iza_07.jpg", "alt": "The Village of Wicker-Weavers in Anna Vojtenko's Project"}


{"img": "/wp-content/uploads/2015/05/iza_08.jpg", "alt": "The Village of Wicker-Weavers in Anna Vojtenko's Project"}


{"img": "/wp-content/uploads/2015/05/iza_09.jpg", "alt": "The Village of Wicker-Weavers in Anna Vojtenko's Project"}


{"img": "/wp-content/uploads/2015/05/iza_10.jpg", "alt": "The Village of Wicker-Weavers in Anna Vojtenko's Project"}


{"img": "/wp-content/uploads/2015/05/iza_11.jpg", "alt": "The Village of Wicker-Weavers in Anna Vojtenko's Project"}


{"img": "/wp-content/uploads/2015/05/iza_12.jpg", "alt": "The Village of Wicker-Weavers in Anna Vojtenko's Project"}


{"img": "/wp-content/uploads/2015/05/iza_13.jpg", "alt": "The Village of Wicker-Weavers in Anna Vojtenko's Project"}


{"img": "/wp-content/uploads/2015/05/iza_14.jpg", "alt": "The Village of Wicker-Weavers in Anna Vojtenko's Project"}


{"img": "/wp-content/uploads/2015/05/iza_15.jpg", "alt": "The Village of Wicker-Weavers in Anna Vojtenko's Project"}


{"img": "/wp-content/uploads/2015/05/iza_16.jpg", "alt": "The Village of Wicker-Weavers in Anna Vojtenko's Project"}


{"img": "/wp-content/uploads/2015/05/iza_17.jpg", "alt": "The Village of Wicker-Weavers in Anna Vojtenko's Project"}


{"img": "/wp-content/uploads/2015/05/iza_18.jpg", "alt": "The Village of Wicker-Weavers in Anna Vojtenko's Project"}