There is a tradition that has existed for hundreds of years in Albania: a household that has lost its head can be headed by a woman — a burnesha. She gives a vow of celibacy and is henceforth acknowledged in the society as a man. Photographer Jill Peters went to meet a few burneshas and find out about their life.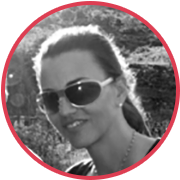 Jill Peters
American photographer, born in Miami. Studies documentary photography at the Rochester Institute of Technology, New York. Works in New York and Miami. Enjoys travelling, catamaran trips and videos of baby elephants.
I once read a book by Serena Nanda, a famous anthropologist, on gender diversity. That book had a small section about vowed virgins that in Albania are called "burnesha." I was really intrigued. I did some research about them, then decided to go to Albania and try to find those women.
They are all very different. A lot of them were friendly and were visibly enjoying their popularity, because in Albania it is considered very prestigious to have guests, especially foreigners. Some of them though had to be talked into it before they agreed to be photographed. The didn't understand why I was interested in them and what I needed from the helpless old men. Yes, yes, old men. They were seriously talking about themselves as of men and the word sounded perfectly natural to them. The virgins I have met have taken the vow of celibacy so long ago, that there is not a germ of womanhood or ladylikeness about them. They did not just look like men — they acted like men. And if they managed to live a decent life and achieve something, they were treated with much respect — as any of the village elders.
This tradition, that now counts hundreds of years, originated in North Albania. Since its purpose was to take care of the family, it was not gender or sex oriented. It was meant to help a woman to survive and inherit the goods of the patriarchal culture. But despite the fact that life is easier for a man (and as a man), it is still full of hardships. A solitary life at their age can barely make them happy. It is just like the younger child who has to leave his parents' home and venture for a better life: he does it because the tradition calls for it, not because he wants it.
The main idea of this project is to capture this unique kind of people before they vanish from our planet. The tradition of burnesha is gradually getting outdated. I wanted to study it and show it to the people as something new and unknown but that has been there for hundreds of years.

{"img": "/wp-content/uploads/2015/03/peters1.jpg", "alt": "Jill Peter's Project"}


{"img": "/wp-content/uploads/2015/03/peters2.jpg", "alt": "Jill Peter's Project"}


{"img": "/wp-content/uploads/2015/03/peters3.jpg", "alt": "Jill Peter's Project"}


{"img": "/wp-content/uploads/2015/03/peters4.jpg", "alt": "Jill Peter's Project"}


{"img": "/wp-content/uploads/2015/03/peters5.jpg", "alt": "Jill Peter's Project"}


{"img": "/wp-content/uploads/2015/03/peters6.jpg", "alt": "Jill Peter's Project"}


{"img": "/wp-content/uploads/2015/03/peters7.jpg", "alt": "Jill Peter's Project"}


{"img": "/wp-content/uploads/2015/03/peters8.jpg", "alt": "Jill Peter's Project"}