A Polish photographer traveled to a northern country with a drone and captured its nature from a bird's eye view.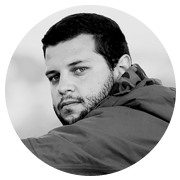 Jacub Polomski
Age 30
Born in Cieszyn in Poland. National Geographic first place in the category "Polish Landscape" in 2010. His works can be purchased in FotoFoam gallery (New York City) and in web galleries Offset and Art of Brands.
I have been doing photography since I was 20, I learned to photograph on my own. I started traveling in 2006, and since then landscape photography is my main category. However I've also photographed sports, events, weddings, etc. I have also made time-lapse photos about my hometown. My approach to photography is changing constantly. I try new techniques. And I am also trying to keep myself up to date, however it's not so easy nowadays.
In July 2015, I traveled to Iceland. For two weeks I drove 4000 km including the seaside. I used my DSLR camera for landscapes, and my drone with a 12 Mpix camera to capture aerial photographs.
On each of my photo journeys I am very close to nature. I slept in a tent. It helps to get 100% atmosphere out of a place and it reminds me of my childhood.
I have had my own quadcopter only few months. It gives me lots of possibilities, and it's as powerful as it is dangerous when used inappropriately. I think using drones is going to be more and more restricted in the future.
Last year I went on a 6-week journey in South America. I was traveling through Chile and Argentina to Patagonia in the South. It was amazing.