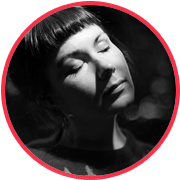 Carla Liesching,
30
A photographer from Johannesburg (SAR), lives in New York. Has exhibited her works in South African Republic and all over the world. Her works are represented in the Nelson Mandela Metropolitan Art Museum in Port Elizabeth (SAR). Teaches art.
The Swimmers is a collection of portraits shot in various natural and urban landscapes around the world, which I worked on for about 3 years. Through this series, I respond to the impacts of globalization and the aftermath of colonial struggles in my home continent, Africa, and elsewhere; exploring the links between space, identity and how we think of home. I am interested in what seems to be a shift in the way that we perceive ourselves in space: a condition characterized by a sense of displacement, an awareness of foreignness, and a search for belonging that cannot be tied to one fixed geographical or ideological place. I imagine "The Swimmers" to be a playful documentation of a newly evolved human – one who can exist in an ever-more complex space between 'here' and 'there.' I played the role of ethnographer, archiving this new breed. My subject, the swimmer, became a metaphor for everything fluid and in-between.
There were plenty of troubles and challenges. Finding locations, and subjects willing to model in bathing suits were all part of it. I use a heavy medium format camera and film, and natural light, which is always challenging. Shooting with film can be frustrating when the shoot does not work as you planned, because each shoot takes a lot of effort and time – coordinating schedules, weather conditions, carrying heavy equipment, film processing etc. – all to find out the shoot did work out like you wanted! But that is all part of this method of working. I've made peace with it.
The project grew out of circumstances that were personal. I had just returned back to South Africa, after having lived elsewhere in the globe, and was mourning communities and people I'd found and lost along the way. I was living in Johannesburg, which is a city full of migrants and exiles from all over Africa. I was noticing how all these people, and even people who had never left "home," were feeling "homeless." For my generation, in post-colonial countries like South Africa (not to mention in a globalized internet era), the location of one's identity is increasingly complicated. I was dreaming about water for months before I made the first image. I was searching for a way to locate myself, and the only place that made sense was the ocean

{"img": "/wp-content/uploads/2015/06/Carla-Liesching-_01.jpg", "alt": ""}


{"img": "/wp-content/uploads/2015/06/Carla-Liesching-_02.jpg", "alt": ""}


{"img": "/wp-content/uploads/2015/06/Carla-Liesching-_03.jpg", "alt": ""}


{"img": "/wp-content/uploads/2015/06/Carla-Liesching-_04.jpg", "alt": ""}


{"img": "/wp-content/uploads/2015/06/Carla-Liesching-_05.jpg", "alt": ""}


{"img": "/wp-content/uploads/2015/06/Carla-Liesching-_06.jpg", "alt": ""}


{"img": "/wp-content/uploads/2015/06/Carla-Liesching-_07.jpg", "alt": ""}


{"img": "/wp-content/uploads/2015/06/Carla-Liesching-_08.jpg", "alt": ""}


{"img": "/wp-content/uploads/2015/06/Carla-Liesching-_09.jpg", "alt": ""}


{"img": "/wp-content/uploads/2015/06/Carla-Liesching-_10.jpg", "alt": ""}


{"img": "/wp-content/uploads/2015/06/Carla-Liesching-_11.jpg", "alt": ""}


{"img": "/wp-content/uploads/2015/06/Carla-Liesching-_12.jpg", "alt": ""}


{"img": "/wp-content/uploads/2015/06/Carla-Liesching-_13.jpg", "alt": ""}


{"img": "/wp-content/uploads/2015/06/Carla-Liesching-_14.jpg", "alt": ""}


{"img": "/wp-content/uploads/2015/06/Carla-Liesching-_15.jpg", "alt": ""}