Photo project
The Tenderness of Bears: Gay, Bearded Men in Luke Darko's Project
Beauty comes in all shapes and sizes, especially when talking about the beauty of the bearded, shapely gay men in the project of a French photographer and representative of sexual minorities in Europe.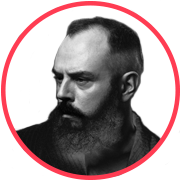 Luke Darko
37 years old
French artist and photographer, studied at Gobelins in Paris. Exhibitions for his project Bear Rupture are going on in France and England. Darko's photos are published in special publications for LGBT audiences.
Idea
I'm a sensitive person by nature. For ten years I was an artist, but I've been doing photography for five years because I like to display people. I created this project to go beyond the standard image of bears. I show them in unexpected sceneries and poses and let their beauty not be obvious. I like the image of this animal, and it became a symbol for all Bear Rupture projects. I generally like hairy men and want to show their fragility, I want for them to reveal their feelings in the pictures.
Process
Problems
This is not only art, it's my personal life, work and civil position. The gay community in Europe has always been exclusive in their definitions and standards, has always been full of stereotypes, both inside and outside, and not all gay men are willing to admit it. Bear Rupture is an alternative reflection of the gay community, a representation outside of the standard.
I have noticed that we haven't been the ones imagined in gay fantasies for a long time. Let people look at my work, let them doubt their own knowledge and experience. I want to change their minds and destroy their internal images.
Goal
My work is a distinct challenge to society. The universe is represented as terribly and one-sidedly masculine, but bears, although males, are so tender. Beauty is always just an inner feeling whose manifestations can be pleasant to me and disgusting to someone else. But true beauty is always seen by those who look at the world through the eyes of a child. Sometimes it is hidden in the fingertips and in the bends of the body, and I try to put these fragile details in my photography. Let people look at beauty through my eyes.

{"img": "/wp-content/uploads/2015/02/Darko_3.jpg", "alt": "Luke Darko 01"}


{"img": "/wp-content/uploads/2015/02/Darko_-2.jpg", "alt": "Luke Darko 02"}


{"img": "/wp-content/uploads/2015/02/Darko_-4.jpg", "alt": "Luke Darko 04"}


{"img": "/wp-content/uploads/2015/02/Darko_09.jpg", "alt": "Luke Darko 05"}


{"img": "/wp-content/uploads/2015/02/Darko_-6.jpg", "alt": "Luke Darko 06"}


{"img": "/wp-content/uploads/2015/02/Darko_-7.jpg", "alt": "Luke Darko 07"}


{"img": "/wp-content/uploads/2015/02/Darko_-8.jpg", "alt": "Luke Darko 08"}