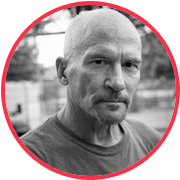 John Conn,
66
American photographer and writer. Born and lives in Bronx (New York City). Published his works in NY Times Sunday Magazine, IMAX Films, African Report, Human Rights Magazine, American Photographer Magazine, British Journal of Photography, B&W Magazine and many others.
The idea to create a photo essay about the New York City Subway appeared naturally. I traveled from one end of the city to another a lot, and when I looked around I kept thinking, "This here would be a great shot. And here. And here." These images haunted me. I had a choice to ignore them or to react. So, I started shooting.
In those days photographers were not as much of a common sight in the streets. When I worked on this series, I used Hasselblad 500CM with focus distance of 50 mm with flash. It is hard to be unnoticed with a camera like this. I took the subway any time of the day. Sometimes I woke up at 2 or 3 am, went underground and traveled until I managed to get a worthy shot. If someone caught my eye, I sometimes came closer to them and openly photographed them, and sometimes tried to catch a shot from the distance. It depended on the situation and on what exactly I wanted to show in a certain photograph. When I approached someone, I photograph quickly, as the subway has active traffic and large streams of people, so you don't have time for much more than just pressing the button. Under these circumstances hardly anyone had time to object to being filmed.
They tried to rob me three times in the duration of this project, and this is when my jui-jitsu practices came in handy.
At the time the subway was a separate independent city with its own population, snack joints, police and criminals. At some point the level of underground crime exceeded the level of street crime. They tried to rob me three times in the duration of this project, and this is when my jui-jitsu practices came in handy.
At the beginning I was just making photographs not to lose the images that I saw. I didn't have a plan what to do with those pictures. The deeper I got involved in this project, the more I saw connection between the photographs, but I still had no idea what to do with the series and whether anyone was going to be interested in it. It turned out that no one was. I kept photographing the subway. At the same time I started documenting the apartheid in the SAR. With time I put my negatives away, where they stayed until recently. Now when the New York City Subway is clean, peaceful and safe, I dug out my work and showed it to the world, and to my surprise, the world applauded. The photographs I made thirty years ago have become history. They feel nostalgic and allow us to compare yesterday and today, and be glad that those days are over.
These photographs have a lot of anxiety and fear. Though, to be honest, I did not have the goal to convey those emotions. I just photographed people rushing for work, using the fastest and the cheapest way to move around the city. And you know, it is the same now as it was then, it's just that everybody forgot about it.

{"img": "/wp-content/uploads/2015/06/johnconn_01.jpg", "alt": "Нью-йоркское метро в проекте Джона Конна"}


{"img": "/wp-content/uploads/2015/06/johnconn_02.jpg", "alt": "Нью-йоркское метро в проекте Джона Конна"}


{"img": "/wp-content/uploads/2015/06/johnconn_03.jpg", "alt": "Нью-йоркское метро в проекте Джона Конна"}


{"img": "/wp-content/uploads/2015/06/johnconn_04.jpg", "alt": "Нью-йоркское метро в проекте Джона Конна"}


{"img": "/wp-content/uploads/2015/06/johnconn_05.jpg", "alt": "Нью-йоркское метро в проекте Джона Конна"}


{"img": "/wp-content/uploads/2015/06/johnconn_06.jpg", "alt": "Нью-йоркское метро в проекте Джона Конна"}


{"img": "/wp-content/uploads/2015/06/johnconn_07.jpg", "alt": "Нью-йоркское метро в проекте Джона Конна"}


{"img": "/wp-content/uploads/2015/06/johnconn_08.jpg", "alt": "Нью-йоркское метро в проекте Джона Конна"}


{"img": "/wp-content/uploads/2015/06/johnconn_09.jpg", "alt": "Нью-йоркское метро в проекте Джона Конна"}


{"img": "/wp-content/uploads/2015/06/johnconn_10.jpg", "alt": "Нью-йоркское метро в проекте Джона Конна"}


{"img": "/wp-content/uploads/2015/06/johnconn_11.jpg", "alt": "Нью-йоркское метро в проекте Джона Конна"}


{"img": "/wp-content/uploads/2015/06/johnconn_12.jpg", "alt": "Нью-йоркское метро в проекте Джона Конна"}


{"img": "/wp-content/uploads/2015/06/johnconn_13.jpg", "alt": "Нью-йоркское метро в проекте Джона Конна"}


{"img": "/wp-content/uploads/2015/06/johnconn_14.jpg", "alt": "Нью-йоркское метро в проекте Джона Конна"}


{"img": "/wp-content/uploads/2015/06/johnconn_15.jpg", "alt": "Нью-йоркское метро в проекте Джона Конна"}


{"img": "/wp-content/uploads/2015/06/johnconn_16.jpg", "alt": "Нью-йоркское метро в проекте Джона Конна"}


{"img": "/wp-content/uploads/2015/06/johnconn_17.jpg", "alt": "Нью-йоркское метро в проекте Джона Конна"}


{"img": "/wp-content/uploads/2015/06/johnconn_18.jpg", "alt": "Нью-йоркское метро в проекте Джона Конна"}


{"img": "/wp-content/uploads/2015/06/johnconn_19.jpg", "alt": "Нью-йоркское метро в проекте Джона Конна"}


{"img": "/wp-content/uploads/2015/06/johnconn_20.jpg", "alt": "Нью-йоркское метро в проекте Джона Конна"}