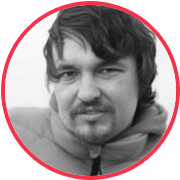 Pavel Volkov,
28
A photographer from Moscow. Attended Galperin Department of Photo Reporters courses. Worked for Rosbalt, Civil Control (Obshchestvennyi kontrol), Business Petersburg (Delovoi Peterburg), Evening Moscow (Vecherniaya Moskva), Neva Times (Nevskoye Vremia), Lenta.ru, Russian Planet (Russkaya Planeta), BBC Russia, Mediazone. Has published in Lens Blog, Der Spiegel, The International New York Times, The Washington Post, Harper's Magazine, Rolling Stone. Winner of Russian Young Photographers 2014. Grand prix at the Dot on the Map: Russian Provincial Towns 2014 competition at the Photoparade in Uglich VIII International Photo Festival. Participated in the screening for Visa pour l'Image — Perpignan festival.
In my several years as a photo reporter I faced nationalism in one or the other way when I was working on my projects. Young people gathered in groups and started minor fights on the so called Russian Marches, Russian cleansings or LGBT meetings; further on these fights turned into confrontation with the police. Some people who were part of the nationalist movement were also football fans – you could meet the most diverse people with the most different political views there. Young people with shaved heads were also often in fight clubs.
In many ways I think of contemporary nationalists as of a subculture rather than a political movement. I have never seen party meetings of skinheads with armbands on their sleeves planning a new Reich with the standards in the background. You could probably see this only in a science fiction movie.

{"img": "/wp-content/uploads/2015/07/Volkov_01.jpg", "text": ""}


{"img": "/wp-content/uploads/2015/07/Volkov_02.jpg", "text": ""}


{"img": "/wp-content/uploads/2015/07/Volkov_03.jpg", "text": ""}


{"img": "/wp-content/uploads/2015/07/Volkov_04.jpg", "text": ""}


{"img": "/wp-content/uploads/2015/07/Volkov_05.jpg", "text": ""}


{"img": "/wp-content/uploads/2015/07/Volkov_06.jpg", "text": ""}


{"img": "/wp-content/uploads/2015/07/Volkov_07.jpg", "text": ""}


{"img": "/wp-content/uploads/2015/07/Volkov_08.jpg", "text": ""}


{"img": "/wp-content/uploads/2015/07/Volkov_09.jpg", "text": ""}


{"img": "/wp-content/uploads/2015/07/Volkov_10.jpg", "text": ""}


{"img": "/wp-content/uploads/2015/07/Volkov_11.jpg", "text": ""}


{"img": "/wp-content/uploads/2015/07/Volkov_12.jpg", "text": ""}


{"img": "/wp-content/uploads/2015/07/Volkov_13.jpg", "text": ""}


{"img": "/wp-content/uploads/2015/07/Volkov_14.jpg", "text": ""}


{"img": "/wp-content/uploads/2015/07/Volkov_15.jpg", "text": ""}


{"img": "/wp-content/uploads/2015/07/Volkov_16.jpg", "text": ""}


{"img": "/wp-content/uploads/2015/07/Volkov_17.jpg", "text": ""}


{"img": "/wp-content/uploads/2015/07/Volkov_18.jpg", "text": ""}


{"img": "/wp-content/uploads/2015/07/Volkov_19.jpg", "text": ""}


{"img": "/wp-content/uploads/2015/07/Volkov_20.jpg", "text": ""}


{"img": "/wp-content/uploads/2015/07/Volkov_21.jpg", "text": ""}


{"img": "/wp-content/uploads/2015/07/Volkov_22.jpg", "text": ""}


{"img": "/wp-content/uploads/2015/07/Volkov_23.jpg", "text": ""}


{"img": "/wp-content/uploads/2015/07/Volkov_24.jpg", "text": ""}


{"img": "/wp-content/uploads/2015/07/Volkov_25.jpg", "text": ""}


{"img": "/wp-content/uploads/2015/07/Volkov_26.jpg", "text": ""}


{"img": "/wp-content/uploads/2015/07/Volkov_27.jpg", "text": ""}


{"img": "/wp-content/uploads/2015/07/Volkov_28.jpg", "text": ""}