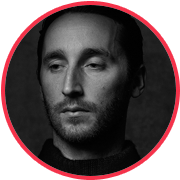 Baker
Born in Germany, raised in the UK. Spent time working for a record company and producing art shows before following the road of photography.
Currently residing in London.
Initially I remember seeing a photograph of the baths years ago, and even though I only have a vague outline of that shot in my mind I still have the memory of the amazing characters in the picture within this epic architectural backdrop. I remember filing it away somewhere in my brain as somewhere that I wanted to visited and left it at that. And then no so long ago I came across Nikolai Bakharev's amazing portraits of bathers on the Russian beaches/lakes, that I believe were taken in the 80's. I love those pictures!I guess somewhere in my mind a melting pot of those three inspirations was happening and in resulted in this project.
I was a half naked English guy who can't speak a word of Hungarian wondering around a public baths with a camera asking people in their speedos if I could take their photographs…There were quite a few comical exchanges of hand gestures to try and explain what I wanted to do, people trying to take my camera thinking I was asking them to take my portrait, moments of utter nonchalance when I was taking the portraits (see the guy in his speedos with a can of beer in his hand) and then utter disbelief that I would want to take their portraits turning into a sense of pride that I did. It was just a super funny and really awkward experience. Maybe for every one portrait I took, I probably didn't get to take 2 others, but that's kind of the nature of that style of photographing. Some people were really into it, and some were not.
This project is all about the characters. The first picture I took was of the old man with the white beard in the baths squinting at the camera. I saw him floating around in the water and knew I had to get the picture because to me his face looked amazing. From that first picture I knew I was going to get pictures that I loved. I was also amazed at the sense of ease in the air, which allowed me in large part to get the pictures. I'm guessing that most of the older people in the baths have probably been going there for their whole lives so there aren't any hang ups about how they look or how they act. All the old men seem to be cracking out beers at midday, hanging out with mates having a good time. There's one shot of a couple of old guys, two of them with snow white beards so intensely into their game of chess that it somehow reminds me of some type of Ancient Greek philosophical scene. Another of two older ladies laughing with each other. They've earned their right to relax and do what they want, which as far as I can see, never really changes in life; again, hanging out with your mates having a good time.

{"img": "/wp-content/uploads/2015/07/baker_01.jpg", "alt": ""}


{"img": "/wp-content/uploads/2015/07/baker_02.jpg", "alt": ""}


{"img": "/wp-content/uploads/2015/07/baker_03.jpg", "alt": ""}


{"img": "/wp-content/uploads/2015/07/baker_04.jpg", "alt": ""}


{"img": "/wp-content/uploads/2015/07/baker_05.jpg", "alt": ""}


{"img": "/wp-content/uploads/2015/07/baker_06.jpg", "alt": ""}


{"img": "/wp-content/uploads/2015/07/baker_07.jpg", "alt": ""}


{"img": "/wp-content/uploads/2015/07/baker_08.jpg", "alt": ""}


{"img": "/wp-content/uploads/2015/07/baker_09.jpg", "alt": ""}


{"img": "/wp-content/uploads/2015/07/baker_10.jpg", "alt": ""}


{"img": "/wp-content/uploads/2015/07/baker_11.jpg", "alt": ""}


{"img": "/wp-content/uploads/2015/07/baker_12.jpg", "alt": ""}


{"img": "/wp-content/uploads/2015/07/baker_13.jpg", "alt": ""}


{"img": "/wp-content/uploads/2015/07/baker_14.jpg", "alt": ""}