Project
This Too Shall Pass: Faded Memories in Angela Deane's Project
American painter Angela Deane looks for old photographs on Ebay and breathes new life into them by painting ghosts over the originally depicted people.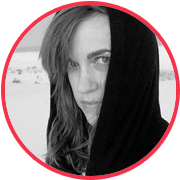 Angela Deane,
38
Lives in Gainesville (FL, USA). Co-founded a women's fashion label with her partner and later left that to give more attention to her art practice. Formed her own business, a line of
scratch off greeting cards
. Took part in several group exhibitions in the US.
A couple years back in one of my boxes I found rejects from the found photographs I had been storing to use for a collage series, and it was soon after that on a curious whim I painted my first ghost upon one. A couple hours later my studio table was full of them. I really like the shape of the simple bedsheet-as-ghost and am drawn to other flowing fabric forms and amorphous shapes that nod towards being human but not exactly.
In a pretty simple way the ghosts seek to remove the specificity and identity in these photographs, so that they lose their ownership and open up to myself and others to participate in. This body of work is both playful yet subdued, and can get read both as melancholy and humorous. I like this fork in the road of interpretation.
When I was a child I poured over family albums fervently and I have lately come to think this series is also a way of interjecting myself into a past which I missed out on. My father passed away when I was ten, and during my teen years it was just me and my mother. This is probably why I'm drawn to photos of that era; not only are they readily and widely available but they speak to my experience or what I wanted to experience. I like providing others with something visual that moves them, that makes them pause, think, smile.
… capturing and painting over the moments of strangers feels expansive to me
I find my photos mainly on eBay. It is like hunting but without the violence, and also at thrift stores and friends often give them to me.
This particular body of work has brought me many commissions, which have been such a joy to work on. Also, the smallness of the found photos and how short a time they take to paint has both allowed and made me feel right about keeping them really affordable. I am far away from myself buying pricey works of art, but there's no better feeling than once in awhile purchasing something I love if I can – and I am so thrilled to have a lot of the ghost's admirers be able to own one or two.
I have yet to paint any of myself or my family. They have asked but somehow this begins to feel morbid to me. Whereas with capturing and painting over the moments of strangers feels expansive to me, with my own relations it feels finite. I'm not ready to totally apply that to myself. Maybe in my eighties.

{"img": "/wp-content/uploads/2015/07/ghost_01.jpg", "alt": ""}


{"img": "/wp-content/uploads/2015/07/ghost_02.jpg", "alt": ""}


{"img": "/wp-content/uploads/2015/07/ghost_03.jpg", "alt": ""}


{"img": "/wp-content/uploads/2015/07/ghost_04.jpg", "alt": ""}


{"img": "/wp-content/uploads/2015/07/ghost_05.jpg", "alt": ""}


{"img": "/wp-content/uploads/2015/07/ghost_06.jpg", "alt": ""}


{"img": "/wp-content/uploads/2015/07/ghost_07jpg", "alt": ""}


{"img": "/wp-content/uploads/2015/07/ghost_08.jpg", "alt": ""}


{"img": "/wp-content/uploads/2015/07/ghost_09.jpg", "alt": ""}


{"img": "/wp-content/uploads/2015/07/ghost_10.jpg", "alt": ""}


{"img": "/wp-content/uploads/2015/07/ghost_11.jpg", "alt": ""}


{"img": "/wp-content/uploads/2015/07/ghost_12.jpg", "alt": ""}