Photo project
Plankton Blues: The Tired Clerk in a Series by Yusuke Sakai
Japanese photographer Yusuke Sakai worked for years in an office without lifting his head, and once looked at himself from another angle.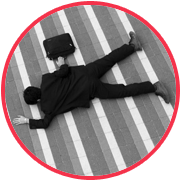 Yusuke Sakai
Age 31
Japanese photographer. Born in Osaka. Winner of the grand prize in the 2015 Canon Award.
Over the past several years, I worked more than I was supposed to every day. When you're constantly sitting at your desk you lose focus and your mind begins to wander. In such moments, I feel as if I'm looking at a picture that suddenly, on its own, appeared in my head. Even if it's my own reflection, I still look at it as if it were someone else looking at me.
"The office worker blues" is a series of self-portraits in which I take a look at myself. I made it so that I could have a laugh at myself.
I go to work for the sake of my photography. I need to eat in order to continue taking photos, and to do that, I need to work.
One weekend I put on a suit, got on the train and left the city. After finding a nice place, I set up the camera on a tripod and thought about the composition. Then I set the timer and measured the space in the frame. I went back to the camera many times to change something. When there was a significant amount of people I had to wait until they all left.
Many people laughed at me and some, on the contrary, took it too seriously. Others applauded.
Sometimes I went back to the camera and saw that it had fallen down because of a heavy lens and this made me feel worthless. But I set it up again to try to get the photo I wanted. I shot from a pedestrian bridge, from the roof of an observatory and from a mountain.
I feel like I've helped myself with these pictures. I get strength from the word "blues," and this strength helps me live. It consists of laughter, sarcasm, defiance and perseverance.

{"img": "/wp-content/uploads/2015/08/Yusuke-Sakai_01.jpg"}


{"img": "/wp-content/uploads/2015/08/Yusuke-Sakai_02.jpg"}


{"img": "/wp-content/uploads/2015/08/Yusuke-Sakai_03.jpg"}


{"img": "/wp-content/uploads/2015/08/Yusuke-Sakai_04.jpg"}


{"img": "/wp-content/uploads/2015/08/Yusuke-Sakai_05.jpg"}


{"img": "/wp-content/uploads/2015/08/Yusuke-Sakai_06.jpg"}


{"img": "/wp-content/uploads/2015/08/Yusuke-Sakai_07.jpg"}


{"img": "/wp-content/uploads/2015/08/Yusuke-Sakai_08.jpg"}


{"img": "/wp-content/uploads/2015/08/Yusuke-Sakai_09.jpg"}


{"img": "/wp-content/uploads/2015/08/Yusuke-Sakai_10.jpg"}